People find serenity out in the fields, by the seashore and at hilltops. Discover the same tranquillity of nature, right in your home! The smart development by B.U.Bhandari Landmarks offers you 5 unbeatable reasons to love living at Vaastu Viva:
1. From hilltops to your rooftop
Discover the calm of a hilltop, on your rooftop unlike anywhere else in the vicinity – enjoy a host of lifestyle amenities such as a Jogging Track, Barbeque Area, Meditation and Yoga Deck, and Open Air Lounge and Party Area.
Sophisticated facilities that overlook the blissful yet vibrant cityscape.
Ready to be spoilt for choice?
2. Conveniences at your doorstep
At Vaastu Viva, we have taken care of your every need with an equally captivating array of ground amenities. Some of them include a charming Nana-Nani Park for the elderly, a Children's Play Area for the little ones and a Gymnasium for you!
Now, you'll never have to move out of your comfort zone to get the features you love.
There's something for everyone!
3. Smart living spaces
Every apartment is optimally-designed with careful planning so your residence is ideally compact and spacious at the same time.
The convertible spaces are blessed with smart automation features for a comfortable lifestyle.
Vaastu Viva offers an eco-friendly and secure ambience.
4. Everything comes together at Wakad
Wakad, Pune's favourite residential destination, is enveloped by a robust network of arterial roads, civic infrastructure and strong social infrastructure.
Live well-connected to Lonavala and Mumbai – in proximity to Hinjewadi, the most coveted IT hub. Just minutes away from key destinations such as Balewadi.
New-age living in a smart neighbourhood.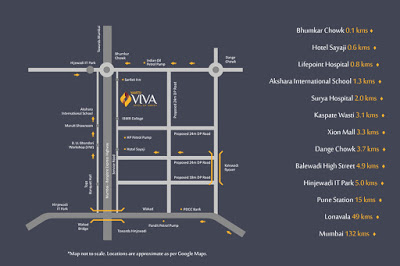 5. Convertible Spaces
When we say innovative living crafted for your comfort, we truly mean it. At Vaastu Viva you get the option of choosing adaptable furniture to suit your specific needs. Get the best out of your space without sacrificing your everyday convenience. And most of all, you shall never have to worry about design aesthetics anymore – these innovative interiors give your home an uber cool look.
Smart living beckons you to Vaastu Viva. Enjoy the perfect work-life balance, recreational amenities sprawled on a rooftop as well as ground, proximity to the Pune-Mumbai Expressway and promising returns on investment. All this, in a prime locale of Pune.
Project by B U Bhandari Vaastu
Disclaimer:
This Perspective image may not be of the scale or may not represent actual facade/elevation.The details of windows, paints, elevation features, landscaping, ground development, trees etc. in the perspective is an artist's impression and would be different to the actual construction of building and development.The viewers affirm that he/she has not taken his/her decision of purchase /booking by viewing this perspective.The company is not responsible for the action of the viewer's booking / purchasing a unit relying on this perspective. Locations are approximate as per Google Maps. All amenities are for A, B, C buildings only.