Living in Pune has a distinctive charm given the city's glorious climate all through the year, comparative ease of commutation owing to the not-so-prohibitive end to end distance span and a wide range of educational and vocational opportunities. The city skyline has a characteristic silhouette of low lying houses unlike the sky-rises of Mumbai, the big sister.
Owning a bungalow in or around Pune is a dream come true for those with a zest for life itself. Little wonder that pioneer realty developers in pune, B U Bhandari Landmarks visualized the concept of a delightful bungalow scheme at Wagholi, the fast developing eastern suburb of Pune. Chrrysalis offers spacious 3 BHK villas with a keen approach to sheer luxury. Feel the comfort of space within and serenity beyond the four walls you call home, at Chrrysalis.
It is as close as you can get to being one with nature! Enjoy the pureness, the abundance and wide open spaces right in your own home! Your own personal cocoon, where you can escape the noise and pollution and experience life to its fullest.
Alternatively B U Bhandari Landmarks encourage you to build your own bungalow detailing all your desires to come true at Belleza a na plots for sale in pune, Talegaon. Belleza describes an expanse of fully developed NA bungalow plots in the next hot spot destination near good old Pune- where customized bungalows could define your refined unique preferences of state-of-the-art amenities. Located amidst a picturesque backdrop of Sahyadri hills, enjoy unpolluted river views and whispering of windswept willows. Realize your future today at Belleza, Talegaon!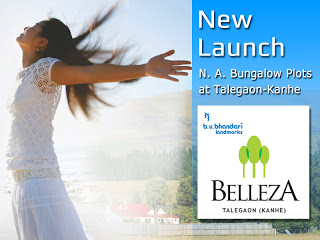 If you think you have to travel far to reach this paradise, then think again, because Belleza is most conveniently located at a short distance from prime cities like Pune and Mumbai. Enjoy the lush green vistas, the pollution free fresh air and the cool breeze over the river side. Belleza has it all.
Call: +91 (020) 2552 1515 / 16 / 17


Visit: https://www.bubhandarilandmarks.com/