The Union Budget 2014-15 was presented in parliament under economic circumstances requiring tax revenues to
keep pace with targets. Mr. Arun Jaitley has given a fresh lease of life to the cash-strapped real estate sector and announced that
Real Estate Investment Trusts
 (
REITs
) would soon be allowed. REITs, which are a fairly successful
concept internationally, would get a tax pass-through status. Infrastructure Investment Trusts would get tax benefits as well.
Below are 5 key points from this Budget that'll shape the industry in the years to come –
1) Introduction of Real estate Investment Trusts (REITs)
Define as an investment instrument in the Indian
Market and the finance minister has promised tax pass-through status for the same
REITs can be traded like shares in a share market.
How will this Impact the real estate Sector?
-The Tax through status for REITs will attract more investments into this sector especially since it removes double taxation. This would allow investors to plan their taxes in better way. For example, capital gains on REITs can be written off against capital losses incurred elsewhere. Builders can use REITs to fund and operate commercial offices and this move would enable small investors to invest in commercial real estate, in smaller chunks.
2) FDI in Real estate 
What has been accomplished?
Previously, FDI was permitted only in real estate projects which had a lowest proposed developed area of 50,000 sq. mts. and a capitalization of $10 million. This has now been reduced to 20,000 sq. mts. and $million.
How will this Impact the real estate Sector? 
This will increase liquidity and make raising capital for projects simpler for B and C category developers, builders, especially in Level 2 and 3 places. Because of this shift, we can anticipate more affordable houses in the market in Future. Developers or
Builders
who allocate a third of their projects to low cost homes are exempted from these rules.
3) Tax deductions on home loan repayment
What has been accomplished? 
The tax relaxation available for home loan interest pay back has been increased to Rs.2 Lakhs from Rs. 1.5 Lakhs and the limit under 80c (which contains home loan principal repayment) has been increased to Rs.1.5 Lakhs from Rs. 1 Lakh.
How will this Impact the real estate Sector?  
This helps consumers save more by investing in real estate. The move will enhance the
residential real estate 
  market which has seen a downturn recently.
4) Affordable housing 
What has been accomplished?
Rs. 4000 Cr. has been allocated for affordable housing via the National Housing Board
How will this Impact the real estate Sector? 
This is in line with the Governments vision of providing housing for everyone in the country by
2022. This move will help provide housing to lower middle class and economically weaker section of society.
5) Development of Smart Cities  
Ø  The Government is aiming at providing global standard cities and improving the overall infrastructure by constructing roads and other facilities. This will provide a more option for NRI's to look beyond the cities and invest in locations nearer their home towns or quieter suburbs and satellite towns.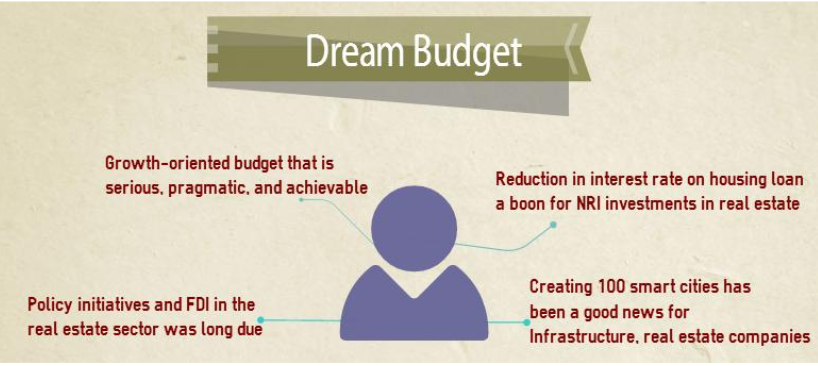 What has been accomplished? 
Rs. 7060 Cr. Has been allocated towards dthe evelopment of smart cities.
How will this Impact the real estate Sector? 
Development of 100 smart cities was part of the BJP's manifesto. Urban Development minister Mr.Venkaiah Naidu had a meeting with ministers of various states about the same on 2nd June, 2014. These will be planned cities across the country with GIS based town planning, integrated drainage systems and advanced transportation facilities. These new satellite cities would help the real estate sector in terms of employment through construction and betterment of infrastructure and providing affordable housing.
Author:
B.U.Bhandari Landmarks leading real estate developers in Pune and their
upcoming construction projects in Pune
are residential project – Unity Park in Kondwa and Alacrity in Baner, Commercial Project in Kharadi & Belleza  NA bungalow plots.