They call Pune the pensioners' paradise; the Oxford of the East, a city that loves its naps & its weather. Like a doting parent, this city has a habit of spoiling you, and Punekars will agree. In spite of its rising skyline & diverse multicultural population, Pune fiercely safeguards its rich history, culture & language. Just one of the reasons why Punekars have a notoriously powerful command over their Marathi!Pune is truly cosmopolitan – an economic, cultural & lifestyle hub. It is peaceful yet industrious; it is clean yet colourful. Several new neighbourhoods have grown and flourished in Pune thanks to a bustling IT sector & educational opportunities, but the city-centre is still the most-preferred residential address thanks to its old-world charm.
If you're a homebuyer, looking for a new place in Pune, here's why the Heart of Pune is the perfect place for you & your loved ones: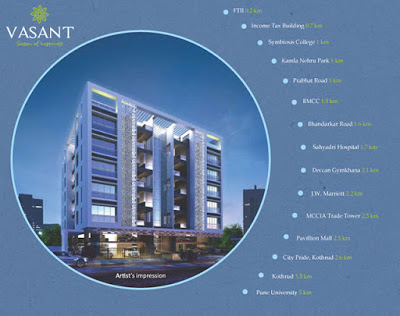 1. Time moves slowly here
As mentioned before, the centre of Pune is a separate universe, with its own sense of time, pace & inhabitants. The leafy, canopy-laden areas of Erandwane, Fergusson College Road, Deccan Gymkhana draw out a feeling of belongingness.
2. It's got everything you need!
Ask any Punekar; the city centre has everything you need! Some of the best hospitals in the country, some of the most renowned educational institutes, gourmet restaurants and much more! Coupled with well-laid out arterial roads and sound civic amenities,  it is a complete residential destination.
3. Getting anywhere from here is easy
Some of the most important roads & avenues of Pune branch out from the city centre. The area is well connected to all the other important destinations of the city.
4. It has incredible aspirational value! 
Where we stay or where we belong, or in this case – our address, can be the source of our pride. The city-centre is without a doubt THE place to live in Pune!
5. A dream location to start a family
The heart of Pune is the cleanest, safest and also one of its most family-friendly locations! It is a world of convenience & comfort and starting a family here is an amazing privilege.
So there you go – we hope you liked reading about the beauty of this city! If you're in search of a home, then take a look at Vasant –  Compact Luxury Homes by B.U. Bhandari Landmarks located at Law College Road, the heart of Pune!