The dainty town of Talegaon has enamored many a pensioner and second home seeker to date. What with its superb climate and scenic natural ambience, this satellite of Pune City has held a welcome demeanor encouraging lovers of tranquil lifestyles over the last few decades.
B U Bhandari Landmarks have given us projects of diverse nature all along the advent of the realty boom in and around Pune. Having specialized in 'Quad vantage' homes (digital integrated home automation system), and other innovative features to sum up their commitment to quality and deliverance of homes for a cause, they have an inherent potential for futuristic concepts.
Keeping in step with newer trends, B U Bhandari Landmarks now offer investible properties viz. non-agricultural bungalow plots of variable sizes for their pragmatic investor; at Talegaon-Kanhe along the 4-lane old Mumbai-Pune highway. Living in Talegaon Kanhe translates into luxuriating in a pollution free environment at the foothills of the Sahayadri range, hardly thirty minutes from the famous twin hill stations of Lonavala and Khandala.
Talegaon presents a good investment opportunity due to its proximity to industries in Chakan and PCMC which are home to international giants like Tata Motors, Mercedes Benz, Volks Wagon, Bajaj Auto, and numerous other large, medium and small industries. Prompted by this phenomenal industrial leap over 100 acres of developmental activity is in the pipeline which unleashes endless possibilities with respect to properties at Talegaon.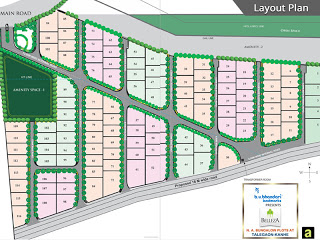 The bungalow NA Plots at project Belleza are fully developed bungalow spaces at Talegaon Kanhe; properties demarcated with barbed fencing for each plot and internal roads ready for transport of your building material. Belleza presents a great investment opportunity given its proximal advantage to Mumbai and Pune as also the nearby Kanhe railway station.
B U Bhandari Landmarks encourage you to build your own bungalow detailing all your desires to come true at Belleza, Talegaon. Belleza describes an expanse of fully developed NA bungalow properties in the next hot spot destination near good old Pune- where customized bungalows could define your refined unique preferences of state-of-the-art amenities. Located amidst a picturesque backdrop of Sahyadri hills enjoy unpolluted river views and whispering of windswept willows. Realize your future today at Belleza, Talegaon!
Visit: https://www.bubhandarilandmarks.com/currentprojects/Belleza/Project-overview.html