Investment in land is undoubtedly profitable. It is the only investment where the chances of it going poor are practically zero. Though there are other good investment options like gold, shares, etc., yet investment in land is the best option. Besides you have number of options in the types of lands you can invest in. You can invest in agricultural, recreational, residential as well we commercial land.
Choosing which type of land to invest in could be challenging.
B. U. Bhandari Landmarks
have come up with their bungalow plot layout scheme Belleza, in Talegaon which is ideal for people who are desirous of lavish bungalow living. It has a beautiful surrounding and is blessed by the westerly winds, mountains and river view. Calm climate, city prospects and opportunity to invest, you have every reason to be here.
Live the charismatic life with the N. A. Bungalow Plots at Talegaon-Kanhe.
Belleza
is a dreamland you would love to discover. Outlined with scenic surroundings and all the conveniences of a town on fast forward, this heaven has every reason to grab your attention.
If you think you have to travel far to reach this paradise, then think again, because Belleza is most conveniently located at a short distance from prime cities like Pune and Mumbai. Enjoy the lush green vistas, the pollution free fresh air and the cool breeze over the river side. Belleza has it all.
Talegoan is a small town in the heart of Sahayadri ranges which is at almost 330 ft higher altitude than Lonavala from the sea level and so is believed to have excellent weather in Maharashtra. You will find cool weather, pleasant atmosphere and fresh air prevailing here through all the seasons. With the kind of healthy and fresh atmosphere, earlier this place was also well-known for healing asthma and tuberculosis patients without any kind of medication.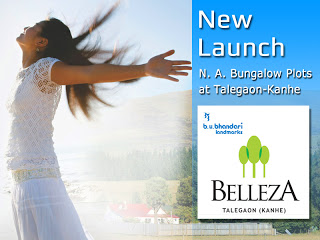 The East of Talegaon is covered with the industrial belts – one being the Chakan Industrial area and the other Pimpri-Chinchwad Industrial area which is claimed to be Asia's largest Industrial belt, which offers various employment opportunities. People from cities like Kolhapur, Satara, Mumbai, Nasik and Pune also prefer to settle permanently or simply spend holidays here making it their best second home choice. Its excellent weather, beautiful locations and neighborhood cities are the reasons to attract several families to Talegaon. Besides, the overall development of the town on various aspects of living offered at a relatively cheaper cost than that of the plots in Pune is also a significant motive behind choosing this place.
Call: +91 (020) 2552 1515/16/17