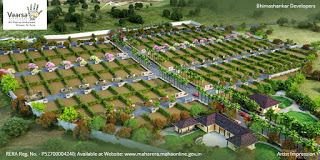 At
B.U. Bhandari Landmarks
, we take immense pride in bringing you premium residential & investment projects across top locations.
Our latest endeavour is Vaarsa Highlands – premium N.A. plots nestled between the hills of Ambarwadi in Shirwal, 65 kilometres from Pune.
Here are 5 reasons why investing in this development makes perfect sense!
1. Planned to perfection
'Vaarsa' means legacy – something that you leave behind for family & loved ones. This is why we've ensured what you own here, would be nothing short of perfect!  From being a thoughtful location, detailed layout to being equipped with several heritage-based activities – we've got everything in place to cultivate a sense of belonging, for you.
2. Ease of buying
Choose from over 127 N.A. Plot-slots with an FSI of 1:1.4.
There's also 7/12 extract for each plot
HDFC approved project. Loan facility available
3. A fast developing zone
In recent times, Shirwal has witnessed significant development at MIDC. This is one of the main reasons why this area is growing rapidly. Also, there are several production units & factories of many national & international companies.
This has added great economic value to this location.
4. Beauty Galore!
Ambarwadi is a mesmerising village that's a part of the Deccan Highland Territory. It is scenic, it is beautiful and a place where you can come to escape the grind of city-life!
5. A developer you can count on
With B.U. Bhandari Landmarks  you get to work with a business entity with a cumulative experience of nearly 100 years!
With Vaarsa N.A. Plots you get the classic B.U. Bhandari Landmarks treatment that includes highly responsive communication, clear-titles, on-time delivery and a transparent process!
So there you are! To know more about Vaarsa, visit the link below!
RERA Reg. No. – P52700004240; Available at Website: www.maharera.mahaonline.gov.in
Disclaimer: This Perspective image may not be to the scale or may not represent actual facade/elevation. The details of windows, paints, elevation features, landscaping, ground development, trees etc. in the perspective is an artist's impression and would be different to actual construction of building and development. The viewers affirm that he/she has not taken his/her decision of purchase /booking by viewing this perspective. The company is not responsible for the action of the viewer's booking / purchasing a unit relying on this perspective.
This is a project by B.U. Bhandari Landmarks and Bhimashankar Developers